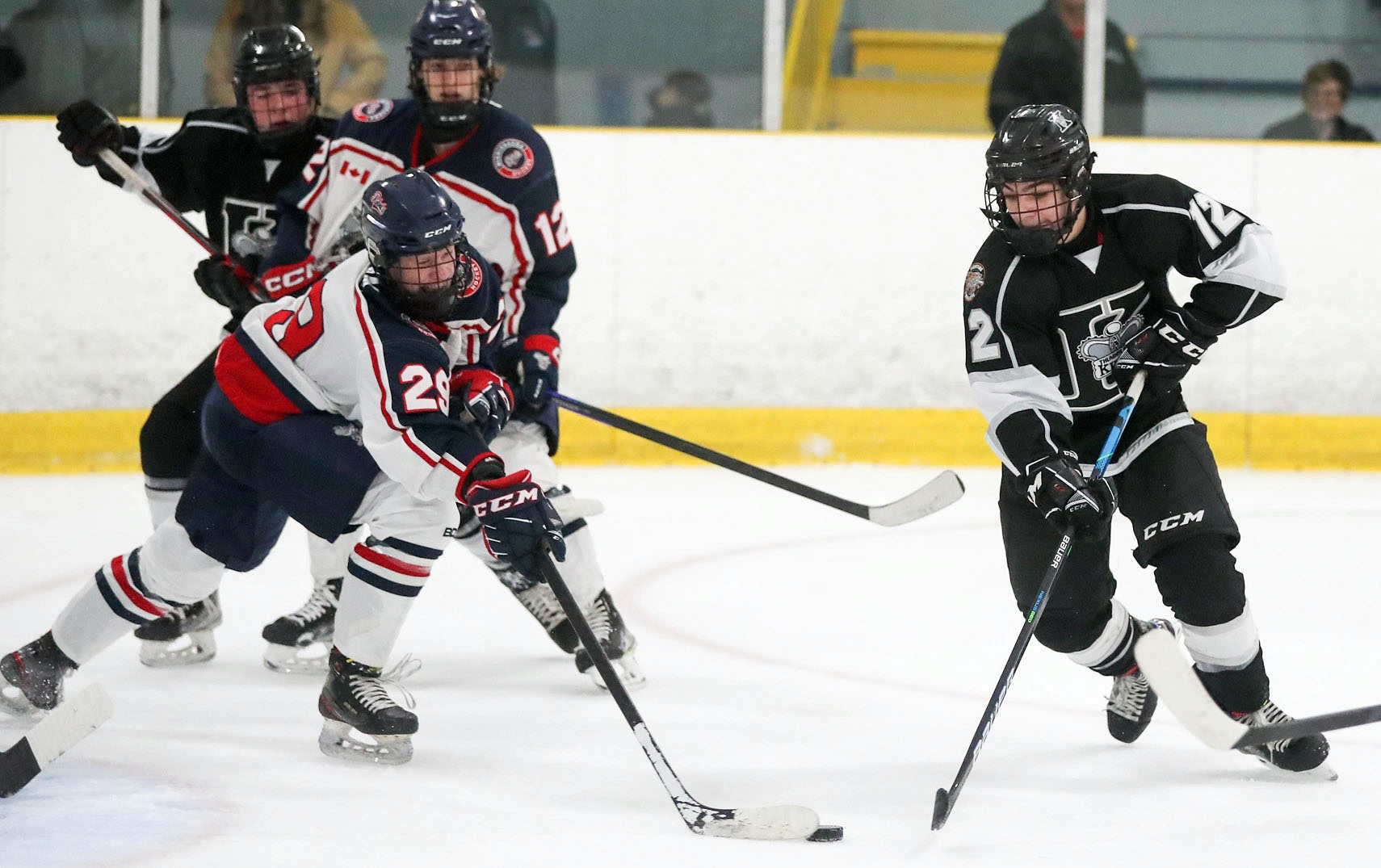 THUNDER BAY – The Thunder Bay Kings completed their second season of Greater Toronto Hockey League regular season competition over the weekend.
Here's a look at how each of the Kings four AAA clubs fared in their respective finales:
U13: Beginning with a match-up Friday versus the Reps Hockey Club, Thunder Bay got a goal and two assists from Felix Sapay as part of a 4-3 victory.
Copper Disher, Owen Trevisanutto and Jace Voortman also scored for the Kings while Kainaan Macgillivray picked up the win in net.
Next came a narrow 1-0 defeat against the Markham Majors where goalkeeper Carter Johnson turned in a solid performance, despite the loss.
A big effort in the team's third game saw them bounce the Mississauga Rebels 6-0.
Voortman helped lead the way to victory by tallying twice and helping set-up another.
Brady Nash meanwhile had a goal and three assists, with Mason Glousher, Ethan Williamson and Trevisanutto also connecting offensively.
They then wrapped up their GTHL campaign by falling 5-0 to the Don Mills Flyers.
U15: Thunder Bay's under-15 side completed play in the GTHL by going 1-2-1 in their four meetings over the weekend.
Their triumph was a 4-1 decision over the Toronto Young Nationals, but they lost 4-1 to Markham and were blanked 3-0 against the Mississauga Rebels.
The tie was a 2-2 draw with the Toronto Titans.
U16: The U16 Kings completed their 36-game GTHL slate going 2-2 to complete play there.
They posted a 5-0 shutout vs. the Toronto Red Wings and also clipped the Reps Hockey Club 3-1.
As for their two losses, they were swamped 6-0 by the Mississauga Senators before suffering a season-ending 2-1 defeat to the Don Mills Flyers.
U18: Kings' affiliate players Eric Blazino and Sam Sargent both had solid efforts in a 4-2 victory over the North York Rangers as they each scored twice in the win.
Meanwhile, Evan Lachimea doled out two assists and Sam Keene made 25 saves to get the win.
Next came a 4-0 setback at the hands of the Toronto Young Nationals who have gone unbeaten in their past 10 games, with Travis Smith facing 21 shots in a losing cause for Thunder Bay.
The first place Toronto Jr. Canadiens then topped the Kings 4-1, after getting a couple of late empty netters.
Sargent supplied another goal for the club with help from Mitch Vanderwey and Kaden Goodwin.
Keene was solid in defeat making 34 saves on 36 attempts against.
They then concluded play skating to a 2-2 with the Vaughan Kings.
Lucas Bertolin and Matthew Lysak were the marksmen for Thunder Bay while Lachimea dished out two more helpers.
Smith was busy between the pipes helping his team pick-up a point with a 38-save effort.
KINGS FINAL GTHL RECORD
U18: 12-17-7
U16: 10-23-3
U15: 5-25-6
U13: 5-27-4
Photo credit: James Mirabelli