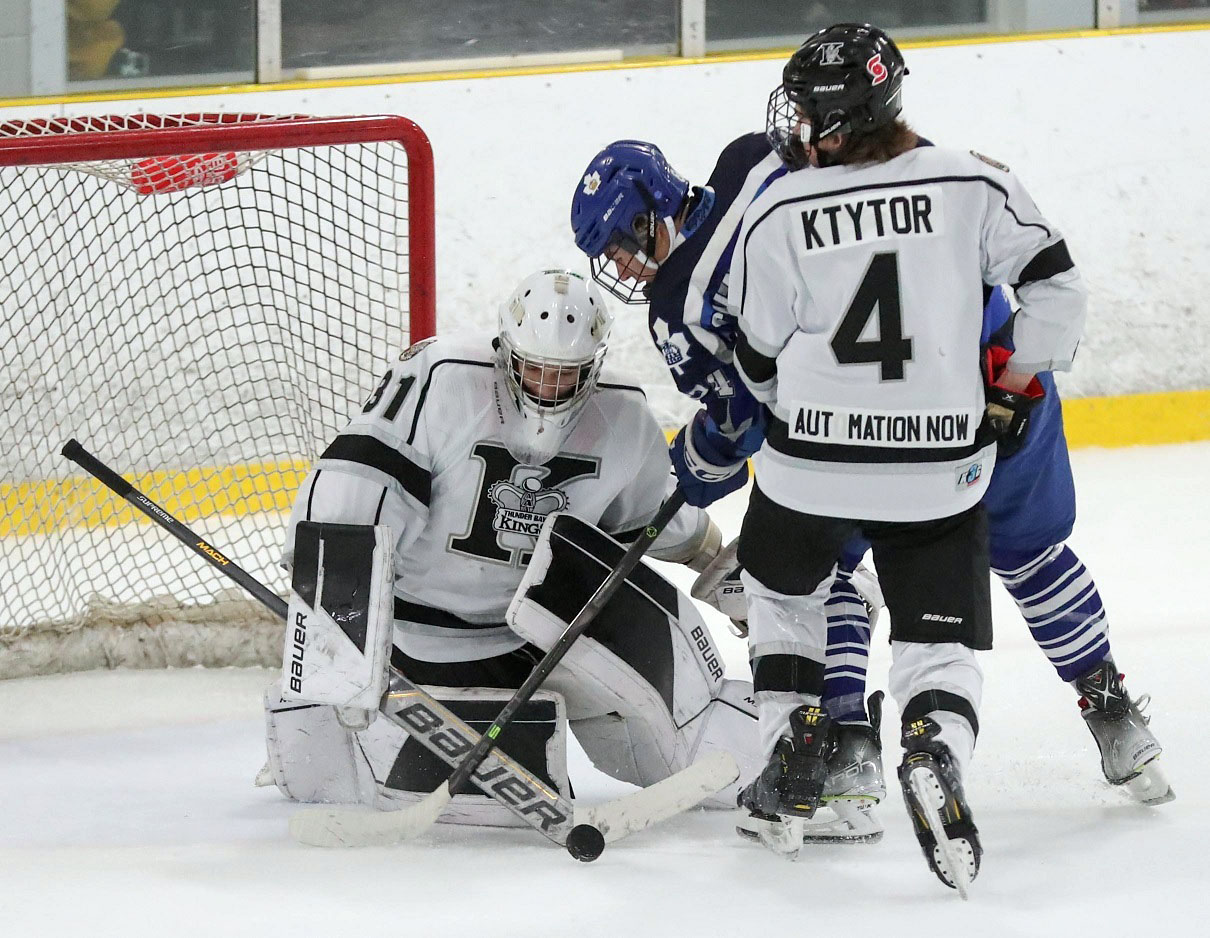 THUNDER BAY – The Thunder Bay AAA Kings will kick off February with another weekend of Greater Toronto Hockey League competition in the provincial capital.
The under-13, U16 and U18 Kings' sides will each have four games apiece on their docket, while the under-15 squad will play five times, to make-up for an earlier match-up that was postponed during in the campaign.
Thunder Bay will then conclude GTHL regular season play Feb. 10-12.
SCHEDULE

Friday, February 3
TEAM/OPPONENT/TIME/VENUE
U15: vs. Toronto Jr. Canadiens 7:45 p.m. (Westwood 3)
U13: vs. Mississauga Senators 8 p.m. (Westwood 1)
U16: vs. Toronto Titans 9:15 p.m. (Westwood 1)
U18: vs. Toronto Marlboros 9:15 p.m. (Westwood 3)
Saturday, February 4
TEAM/OPPONENT/TIME/VENUE
U16: vs. North York Rangers 11:35 a.m. (Herb Carnegie)
U15: vs. North York Rangers 1:10 p.m. (Herb Carnegie)
U13: vs. Vaughan Kings 1:15 p.m. (Westwood 2)
U18: vs. Don Mills Flyers 1:55 p.m. (Westwood 5)
U13: vs. Toronto Red Wings 5:10 p.m. (Westwood 3)
U16: vs. Toronto Young Nations 5:25 p.m. (Herb Carnegie)
U18: vs. Toronto Titans 6:30 p.m. (Westwood 5)
U15: vs. Don Mills Flyers 6:55 p.m. (Herb Carnegie)
Sunday, February 5
TEAM/OPPONENT/TIME/VENUE
U15: vs. Toronto Red Wings 9:10 a.m. (Chesswood 1)
U18: vs. Mississauga Rebels 12:25 p.m. (Chesswood 1)
U13: vs. Toronto Jr. Canadiens 1:55 p.m. (Scotiaback Pond 1)
U16: vs. Markham Majors 2 p.m. (Thornhill Centre West)
U15: vs. Markham Majors 3:30 p.m. (Thornhill Centre West)
KINGS GTHL RECORD (As of Jan. 31)
U18: 8-14-6
U16: 6-19-3
U15: 4-19-4
U13: 3-21-4
UPCOMING KINGS' GTHL WEEKENDS
Feb. 10-12

Photo credit: James Mirabelli