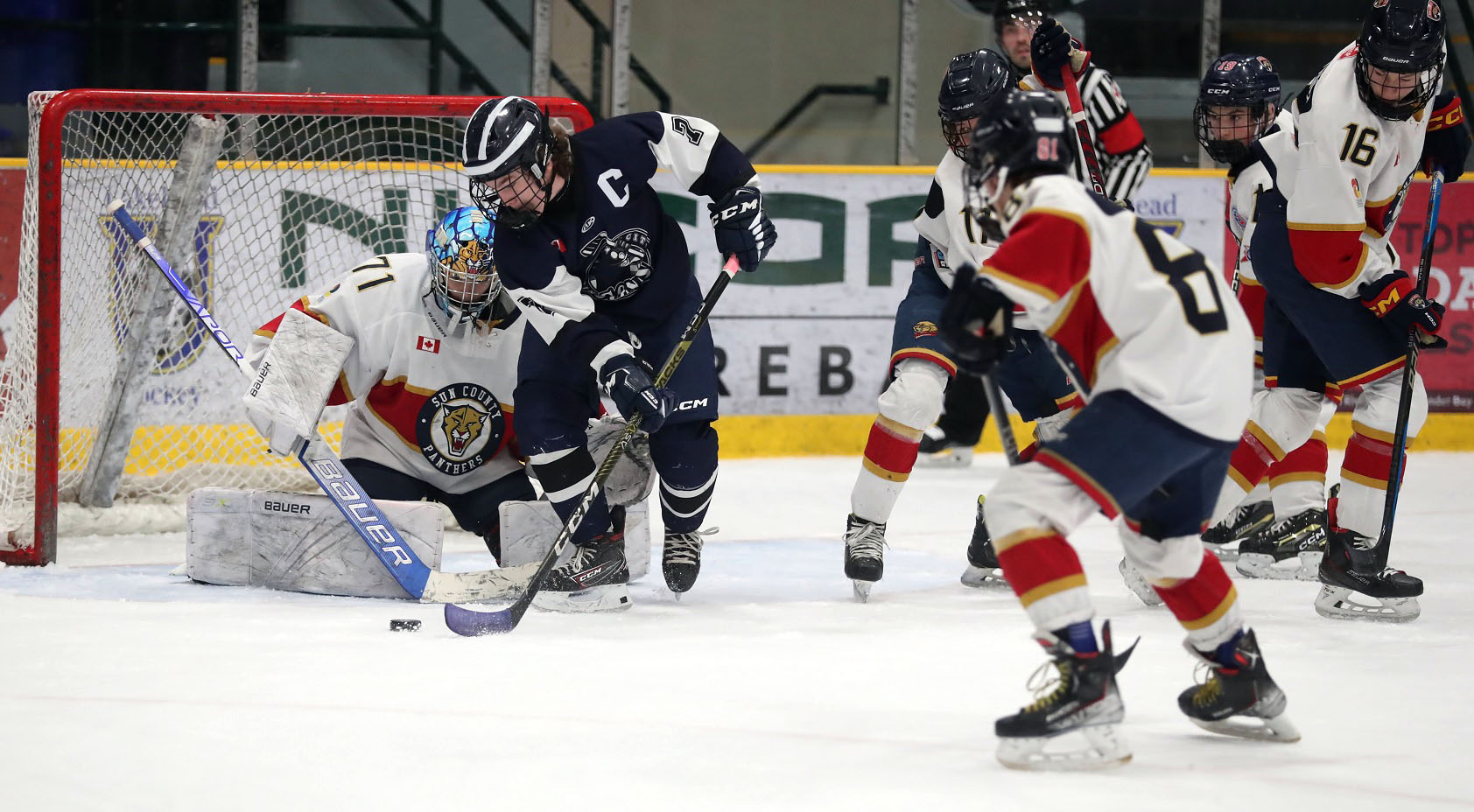 THUNDER BAY – A Dacey Dupuis goal 10:07 into the second overtime lifted the Nickel City Sons to a dramatic 2-1 victory over the Sun County Panthers Sunday afternoon in All-Ontario under-13 AAA championship semifinal action at the Fort William Gardens.
With the win, the Nickel City moves on to meet the Markham Majors in the gold medal game at 7:30 p.m., while Sun County will take on the Thunder Bay Kings at 5 p.m. for bronze.
The Greater Sudbury side opened the scoring midway through the opening frame when Greyson Hnatiuk found himself free in close, then fired a shot by Panthers' starter Noah Spiteri.
Answering with an equalizer with just over three minutes left in the first, Sun County worked a play out from the end boards and saw Cole Coristine put a feed towards the target that saw Alex West collect it and whip one into the top corner over netminder Ty Imbeau.
Heading to the second stanza, the clubs battled hard in a tight defensive session and hit the second intermission still knotted at 1-1.
In the third, another period went by without a goal, sending it to extra time to determine a winner.
Nickel City thought they had won it five minutes into OT as a dump in took a funny hop off the ice and bounced high into the net and the Sons had started to celebrate, however the play was correctly ruled to have been offside.
Continuing to play, end-to-end action ensured with both teams have opportunities to end it, but Imbeau and Spiteri would have none of it.
Moving to a second extra session in the hard-fought, well-played affair, Nickel City got the winner when Seth Verbiwski darted down the left wing and pumped a rising attempt towards the net that hit the blocker of Spiteri, skipped up high in the air and landed between the circles where Dupuis dashed in and slammed it into the bottom right corner to end it.
Imbeau finished with 34 saves to collect the victory, while Spiteri made 23 stops in suffering the tough defeat.
Verbiwski, who assisted on both goals for the Sons, was named his side's BioSteel player of the game, with West garnering the accolades for the Panthers.
Photo credit: James Mirabelli
Semifinal results:
Markham Majors 3 Thunder Bay Kings 1
Nickel City Sons 2 Sun County Panthers 1 (2OT)
Bronze medal game: 5 p.m.
Thunder Bay Kings vs. Sun County Panthers
Gold/Silver medal game: 7:30 p.m.
Nickel City Sons vs. Markham Majors