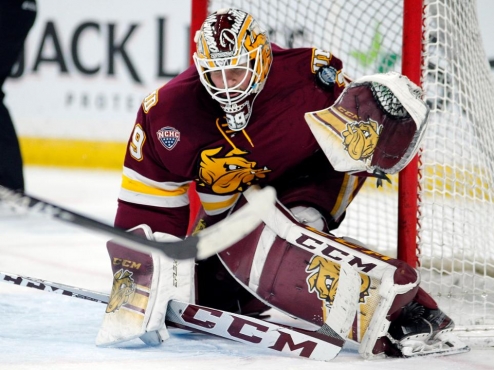 EDMONTON, Alta – The Edmonton Oilers have signed goaltender Ryan Fanti, an alumnus of the Thunder Bay Kings program, from the University of Minnesota-Duluth to a two-year contract beginning with the 2022-23 season.
Fanti will join the AHL's Bakersfield Condors on an amateur tryout (ATO) contract for the remainder of the 2021-22 campaign.
The 6-foot-3, 195-pound netminder recently completed his second full season with the Bulldogs, appearing in 37 games and recording a 20-12-4 record, 1.83 goals-against average, .929 save percentage and seven shutouts.
The 22-year-old Thunder Bay, Ont., native followed up on his impressive regular season with back-to-back shutouts over Denver and Western Michigan to lead UMD to the National Collegiate Hockey Conference playoff title.
Fanti was selected as the most outstanding player of the NCHC tournament.
Photo credit: UMD Athletics