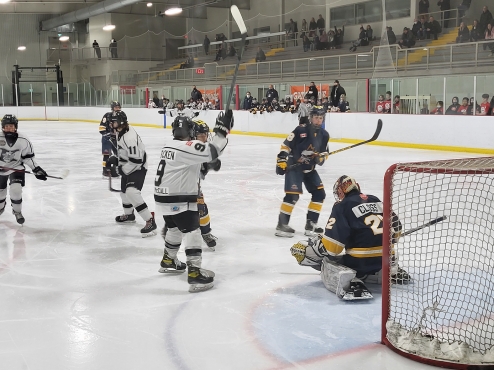 BURLINGTON, Ont. – The Thunder Bay Kings began the under-13 All-Ontario provincial championship in Burlington Monday with a 5-1 victory over the host Burlington Eagles.
The Kings opened the scoring seven minutes into the game as defenceman Kellan Ozerkevich started a breakout from his own zone and made a pass up that resulted on a two-on-one where Ethan Cava put a perfect feed over to Keegan Bragnalo, who snapped a shot into the left corner.
Thunder Bay then went up by a pair 11:21 into the second stanza off a nice rush up the left wing by Nick Rojik that left Jackson Walker with a tap in at the right of the crease.
Burlington did get one back with a man advantage marker in the final moments to make it a 2-1 game after two periods of play.
However, the Kings put the game away in the third, with a trio of tallies in the session to secure the opening day victory.
Jake Ritson, from in close early, Cava on the power play with 10 minutes to play and a nice individual effort from Rojik capped off the day's scoring.
Goaltender Charlie Weiss was solid between the pipes, making 20 saves in the triumph, include a number of point-blank stops.
Rojik was named the Kings' player of the game award recipient.
Thunder Bay has a pair of contests on the docket Tuesday as they meet the Soo Jr. Greyhounds at 10 a.m., followed with a 4 p.m. match-up versus the Niagara North Stars, back in Burlington.
Meanwhile in Middlesex Centre, just outside of London, Ont., the U-15 Kings dropped their first game of their provincials as they were humbled 15-0 by a strong Toronto Jr. Canadians side, who were the champions of the Greater Toronto Hockey League.
They too are on the ice twice Tuesday, facing off against the Ottawa Myers Automotive at 10:15 a.m. before tangling with the Huron-Perth Lakers at 6:15 p.m.
GAME SUMMARIES:
U-13
U-15
All-Ontario U-13 AAA Championship
April 11-15: Burlington, Ont.
April 11: vs. Burlington Eagles (5-1 win)
April 12: vs. Soo Jr. Greyhounds 10 a.m.
April 12: vs. Niagara North Stars 4 p.m.
April 13: vs. Huron-Perth Lakers 4 p.m.
April 14: vs. Ottawa Valley Titans 12 p.m.
April 14: vs. Don Mills Flyers 6 p.m.
April 15: Semifinals/Medal Games (Top 4 teams in round robin)
All-Ontario U-15 AAA Championship
April 11-15: Middlesex Centre, Ont.
April 11: vs. Toronto Jr. Canadiens (15-0 loss)
April 12: vs. Ottawa Myers Automotive 10:15 a.m.
April 12: vs. Huron-Perth Lakers 6:15 p.m.
April 13: vs. Elgin-Middlesex Chiefs 11:15 a.m.
April 13: vs. North Bay Trappers 5:15 p.m.
April 14: vs. Halton Hurricanes 12:15 p.m.
April 15: Semifinals/Medal Games (Top 4 teams in round robin)