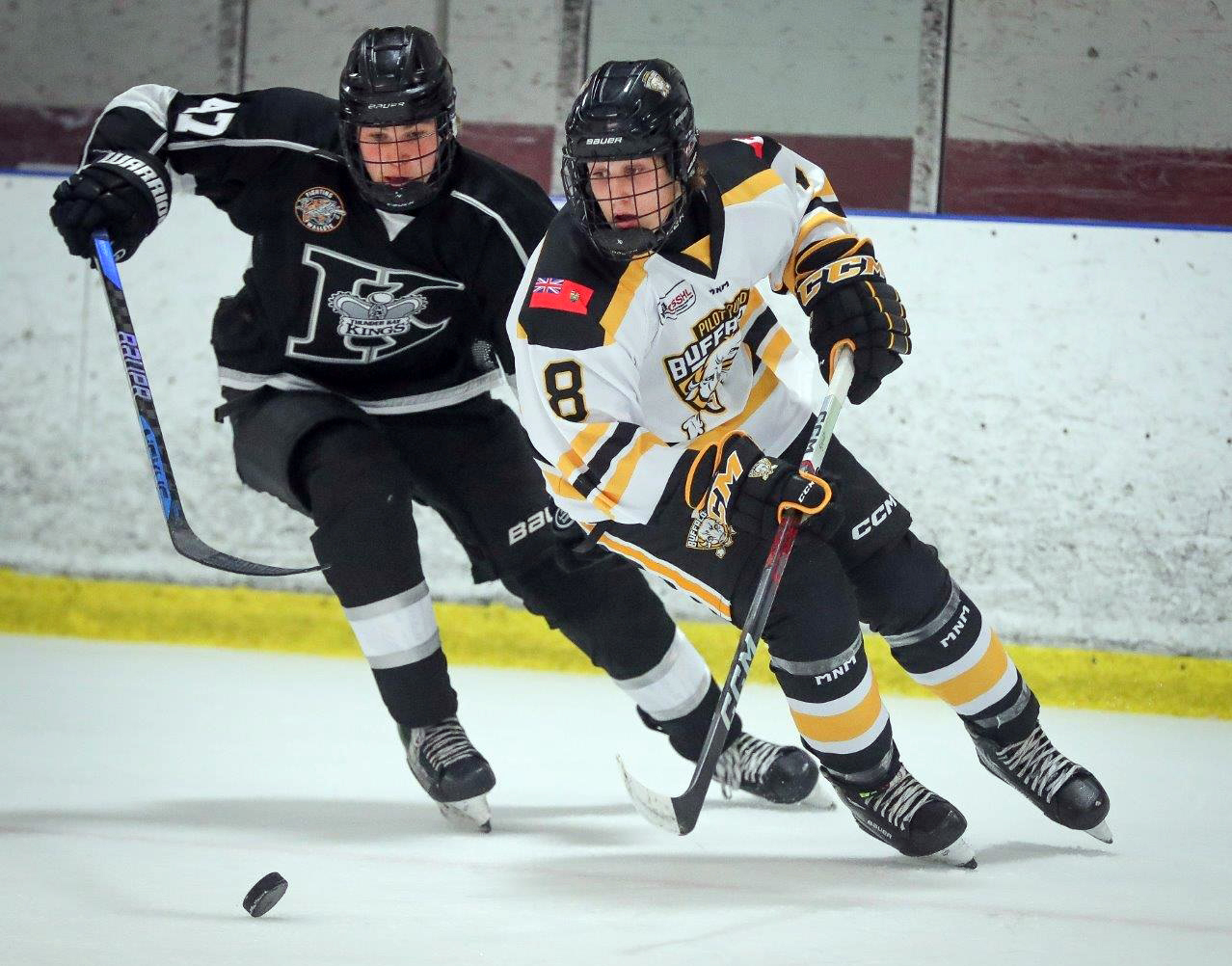 U13s go 2-1-1 vs. NOAAAHL opponents; U15s swept in Manitoba
THUNDER BAY – The Thunder Bay under-16 Kings had a positive result on home ice over the weekend by taking two of three games versus the Pilot Mound Buffaloes U17 side of Manitoba at Fort William First Nation Arena.
Thunder Bay opened the series with an impressive 7-2 victory Friday.
A well-balance attack in that triumph saw seven different skaters connect as Andrew Figliomeni; Moe Ktytor; Cole Piccinin; Evan Simeoni; Sawyer Smith; Mitch Smith and
Nico Simeoni all found the back of the net for the Kings.
Starting goaltender Brady Cates also did his part between the pipes, with a 23-save effort.
They then saw Figliomeni, Sawyer and Mitch Smith score in a narrow 3-2 triumph Saturday, with netminder Barrett Hayes making 31 saves in a winning cause.
Sunday's finale was another tightly-contested affair with the Buffaloes pulling out a 2-1 result.
Landon Hansen had the lone Thunder Bay marker in the setback while Cates and Hayes split the duties between the pipes, seeing 25 shots against in total.
Meanwhile the under-13 Kings traveled southeast for a four-game stint against Northern Ontario AAA Hockey League competition.
Opening up Friday with a meeting vs. the Soo Jr. Greyhounds, the club pulled out a 3-2 win.
Cullen McCormack was the offensive sparkplug for the squad, supplying all three goals.
Then came a 9-2 dismantling of the North Bay Trappers in their second contest.
Jack Koski led the way there with a three-tally effort, with Bentlee Wiwcharyk chipping in with a couple of markers.
Adding singles were McCormack; Matthew Koch; Keegan Hebert and Nathan Pugliese.
Next came a 3-1 defeat at the hands of the Sudbury U13 Wolves that saw Ryder Cava pick-up the lone Thunder Bay marker.
Wrapping the weekend, the Kings were clipped once again by the Wolves, as they dropped a 4-3 outcome in overtime, Sunday.
Wiwcharyk; Lucas Ianni and Darian Walker were the goal scorer in the OT defeat.
The U15 Kings were also on the road to begin their campaign and had a difficult go of it against a solid RINK Academy prep team from Manitoba.
They went on to be swept over the course of three games, falling 4-1 Friday, 5-0 Saturday before being blanked by a similar 5-0 score Sunday.
All four of Thunder Bay's AAA clubs will continue to prepare for the opening round of Greater Toronto Hockey League play, which goes October 13-15 in the provincial capital.
Photo credit: James Mirabelli