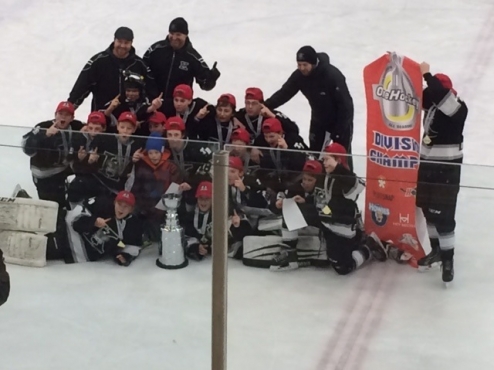 hunder Bay Kings AAA Hockey
Media Update
Release date: Monday, Jan. 18, 2016
Peewee Kings crowned Minnesota Gone Wild champions
BLAINE, Minn. – The Thunder Bay peewee Kings have won the fourth annual Minnesota Gone Wild tournament in Blaine, Minn., after thumping the Illinois Falcons 7-0 in the championship game Monday morning.
Jack Valiquette paced the Thunder Bay attack by tallying twice and adding an assist in the triumph as he celebrated his 13th birthday.
The Kings took a 1-0 lead after one period of play on a Ryan Doucette marker.
They then upped their cushion to three through the second stanza getting goals from Jett Mintenko and Tyler Lewis.
Thunder Bay broke it open in the final frame getting a pair from Valiquette and singles courtesy of Jeremy Dunmore and Jack Cook to finish off the Falcons.
Gage Stewart posted the shutout for the Kings in the one-sided victory.